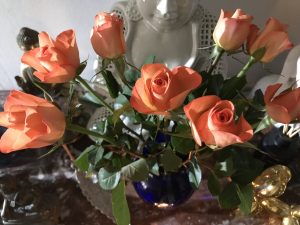 Start a healthy habits to have a fulfilling life.
For 33 days starting October 1, I posted daily meditations on facebook to support everyone to take a short moment for the self. This quiet period of focusing on the breath to listening inward helps keep you in balance and in flow with life.  Remarkably, time taken away from activity makes your actions more impactful, because the focus is clearer.  The silent time of "doing nothing" gives greater weight to accomplishments than massive busyness.
Meditation moments continue after the 33 days.   The healthy habit has begun – to take  2 to 20 minutes to simply focus on your breath and listen within.  I live by experience, feeling the difference for myself.  You can google all the research about the benefit of meditation, if you feel that you need that to convince you.  I simply love the calm and peace that I get from stilling my mind and paying attention to my breath.
When you start a healthy habit, you leave less room for the unhealthy habits.  So if you feel that you have bad habits to break: stop smoking, loose weight, drink less, etc., ignore them and start a healthy habit of meditating. Focus on the health you want. Meditate and if it inspires you, add another healthy habit, like daily walks.  Even if you continue with your unhealthy habit, you'll find that focusing on the healthy activities will automatically reduce the unhealthy ones.  No need to fight against anything. simply chaos in each conscious moment the activity that brings you closer to becoming who you want to be.
This little post is my first test at getting back into managing my web site – my little healthy habit step for now.
Enjoy Today!