by Michall Jeffers
Photo by Bill Bramswig
Chappaqua Inside – December 2009
Here in Chappaqua, good neighbors come in all colors, faiths, and ethnic backgrounds. Since this is the season to celebrate and to share, there's no better time to learn about the holiday customs of these friends in our community, in their own words. Our lovely Cover Girls are joined in telling their stories by a Quaker from one of the founding Chappaqua families, a Jewish mom whose creativity encouraged her daughter to cherish Hanukah, a prominent African American citizen explaining Kwanzaa, and an Indian dad and daughter who have perfected the art of giving back. They range in age from twelve to eighty-nine, and come from all over the globe.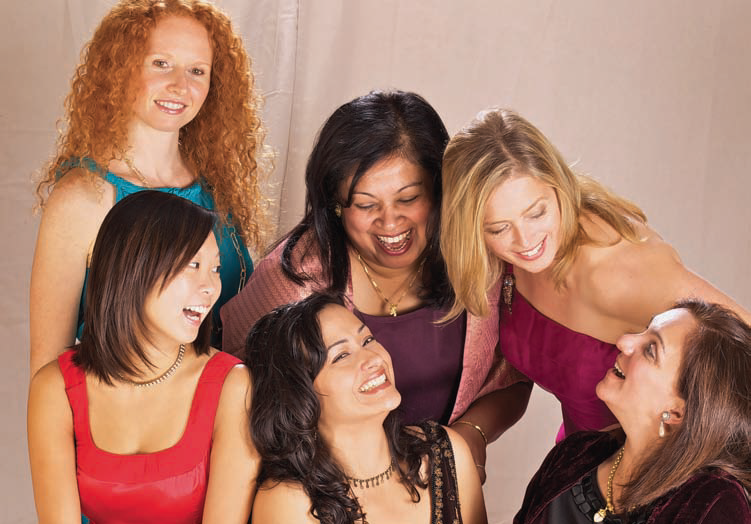 Phebe Washburn: The first Washburns and the first Quaker church in Chappaqua date back to the mid 1700's. Early Quakers
didn't believe that one day should be more holy than another, so originally, there was no celebration at Christmas. Most Quakers don't believe that ministers are needed to communicate with our Creator, as we are all connected personally to God. At the Quaker Meeting House now, the children hold a little pageant, hymns are song, and Christmas goodies are eaten. We are very tolerant of how people wish to celebrate.
Helen Williams: I gave my grandchildren the Kinara, which is a candle holder with seven candles. One black candle in the middle is lit on the first day of the Kwanzaa celebration; this represents the richness of our
culture and our family. On either side of the black candle are three red and three green candles. Each day, a candle is lit to represent the principles of Kwanzaa:
Day two, red candle, self determination, "kujichagulia."
Day three, green candle, collective work and responsibility, "Ujima."
Day four, red candle, cooperative economics, "Ujamaa."
Day five, green candle, purpose, "Nia."
Day six, red candle, creativity, "Kuumba."
Day seven, green candle, faith, "Imani."
For everyone interested in Kwanzaa, I recommend the well written and beautifully illustrated children's book Seven Candles For Kwanzaa, by Brian and Andrea Pinkney.
Candice Chui: Chinese New Year is the most important holiday in our culture. To symbolize the idea of a fresh start, customs include a thorough cleaning of the house, and wearing new clothes. On New Year's Eve, families gather together for a feast of traditional dishes. Throughout the festivities, which last up to two weeks, we visit relatives and friends, and exchange red envelopes with money, for good luck and prosperity. I love the fact that the traditions have been passed down through the generations, and that everyone can appreciate
and enjoy this time of year.
Growing up in Hong Kong, under a British regime, I was exposed not only to traditional Buddhism, but also to
the Christian beliefs of the West. My commitment to the Chinese Christian Church has grown and deepened; my faith gives me the joy of knowing Christ as my personal savior. Christmas means so much to me because it's the time Jesus was born into our world; he died for our sins, and to mend the broken link between man and God.
Nancy Weiss: When my daughter Amanda was little, we used to drive around this time of year to enjoy the colorful Christmas decorations. When she exclaimed, "We must be the only Jewish people in this whole place!" I knew it was time to make Hanukah really special in our house, and we began a tradition. We go all out decorating our home with menorahs, dreidels, mobiles and lights, all in blue and white. Our annual Hanukah party is an opportunity to include friends in the festivities.
Carol Wasserman: My mom is Catholic, my dad is Jewish. I went to Hebrew school, and got to celebrate Christmas with a tree, lights, and ornaments. My childhood included matzoh ball soup, and honey baked ham. I don't practice religion anymore, but I find doing Yoga a spiritual experience.
Nil Brittan: Growing up in Istanbul, I especially enjoyed the holidays as a time to visit with friends and family. We would call on our relatives, starting with the oldest first, and if someone wasn't home, we left a calling card. This happened quite a bit, as everyone was out visiting at the same time! Kids got brand new outfits with matching shiny shoes; laughter and joy filled our homes. Celebrating the conclusion of Ramadan, which is a fasting period, everyone had sweets to offer visitors; in Turkey, we call it "the sweets holiday."
It's not customary for Muslims to exchange gifts on holidays. As Turkey is a secular democracy, New Year's Eve, a non-religious holiday, is lavish. Due to globalization, Christmas décor is often used for decoration. And we do serve turkey in Turkey at this time; it's delicious, stuffed with fragrant rice and chestnuts.
Our children have benefited by being raised in a flexible secular Muslim/Episcopalian family. They've been exposed to many cultures through travel. Most importantly, we teach them to have good values: be a good person, be fair and respectful to others, and be sensitive to the environment.
Marie Lou Ortiz: It's a treat to hear my mom's stories about Christmas in Puerto Rico. The holiday begins on December 24th, and ends on Epiphany, January 6th. Statues of Mary and Joseph are placed in a manger, and joined on Christmas day by a statue of Jesus. Each day, statues of the three kings are moved closer to the Holy Family. On the evening of January 5th, children prepare boxes filled with cut grass and corn, which is placed under their beds to feed the horses of the Magi. Children awake to find gifts that have been left for them by these "Reyes."
Music and wonderful food are traditional; rice, pigeon peas, roast pork, and mashed plantain stuffed with meat are accompanied by "coquito," a drink which is like eggnog. It's a great honor to receive a "paranda," a concert which travels from home to home; carols are sung, instruments are played, friends and family gather, and everyone feasts and celebrates. I hope someday a "paranda" will be arranged for my home!
Suna Senman-Lane: In my native Sweden, we counter the constant darkness of December with bright festivities inside our homes. The holiday season starts with Santa Lucia Day, December 13th. A special feature is bringing coffee and sweet breads to our parents and to the homes of our teachers.
My most memorable Christmas was spent visiting my seventy-five year old grandmother, and three of her older siblings in Northern Sweden. It was a truly old fashioned "Jul". I played Santa's helper, the "Jul Trompte," and delivered gifts to the elderly "children." One tradition involves finding an almond in a rice pudding bowl; this person is destined to get married that year! You can imagine how much fun this was, especially combined with the traditional meal of ham, meatballs, sausage, pickled beets, cabbage, cheese and of course, the vodka spiked hot spiced wine drink "glogg." How do
Scandinavians eat this way, yet stay thin and avoid heart attacks? Good genes, and plenty of vigorous exercise.
I think back fondly on the "Jul Atta," early Christmas morning service. While we walked to church, those who lived farther away arrived in sleighs pulled by horses. The Church was bright with holiday light. It was an unforgettable sight.
Author: The truth must be told. I celebrate GACH= Great American Consumer Holiday. I love giving and receiving presents and cards. I can't cook or bake, but boy, I sure can shop. Buying begins December 26th, and continues until the following Christmas. To get the best values, I hunt off season, and maintain a gift closet. This way, I remember friends and relatives throughout the year. I know it's shallow, but I treasure all holidays: Christmas, Hanukah, Chinese New Year. The cheery carols, flashy decorations, delicious treats, shiny wrapping paper, glowing candles; I just can't wait!
This is just a snapshot of the ways Chappaqua residents celebrate. It's presented as an opportunity to learn more about our rich cultural diversity, and to wish everyone a happy holiday season, and a healthy, prosperous 2010.
Special thanks go to Grace Lam Chui, a friend indeed; to all the beautiful models who posed for this article; and to everyone who contributed a story of celebration. Best wishes to everybody from MICHALL JEFFERS, a regular contributor to IC, and her very patient husband, John Warner, whose idea of a happy holiday is to lie back, close his eyes, and wait for it to be over.